24 Jan, 2012
Posted by: The Webmaster In: Leisure
Active Holiday Ideas In and Around St. Albans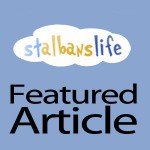 If you're looking for ways to get outdoors and get active on your visit to St. Albans, we have plenty of action-packed ideas for you. From watersports adventures to paintball fun, there's an active holiday treat to suit everyone.
Waterside Holiday Park
If you love waterports, then you'll love Park Resorts Waterside Holiday Park. Situated just over an hour's drive away at St. Lawrence Bay, it's an ideal base for those looking to take a trip to the seaside. Just 10 minutes walk through the park's landscaped grounds will find you on the beach itself, and there are lots of activities onsite designed specifically with active families in mind. Kids will love the indoor and outdoor heated pools, as well as snorkelling, aqua team games and hydrodome fun. Out of the water, there are sports courts, archery, adventure playgrounds, the Festival of Football and more. And if you plan on making it a regular family holiday destination, Park Resorts is currently holding a used caravans sale with caravans available from just £8,995.
Find out more: http://www.park-resorts.com/holiday-parks/essex/waterside/
Cuffley Camp Outdoor Activity Centre
Just a half hour drive from St. Albans, the Cuffley Outdoor Centre is the ultimate in outdoor activities. Set in 90 acres of outstanding natural beauty, this spacious woodland offers a wealth of activities for families of all ages, including mountain biking, archery, pond dipping, shelter building, tree climbing and more. You can explore the woodland at your leisure and camp out under the stars at one of the centre's twelve individual camping areas.
Find out more: http://www.thegrid.org.uk/learning/hertsoutdoors/cuffley/index.shtml
St. Albans Annual Half Marathon
Plan your visit to coincide with the annual St. Albans Half Marathon for a fun day out for all the family. The 2012 Half Marathon takes place on Sunday 10th June and includes a special 1.5 mile children's fun run too. Whether you run it, jog it or walk it you'll find food stalls, free physio and massage tents, face painting, a climbing wall and party games to enjoy.
Find out more: http://www.stalbanshalfmarathon.co.uk/
Zap Combat – Paintball & Laser Combat
A 30-minute drive from St. Albans, Zap Combat is a huge 40-acre outdoor woodland adventure park for all. Choose between laser and paintball combat and compete with friends in an array of games zones, scenarios and special missions. The site is open throughout the year from 9am to 6pm, with adult and junior games available for those aged 11+.
Find out more: http://www.zapsports.co.uk/